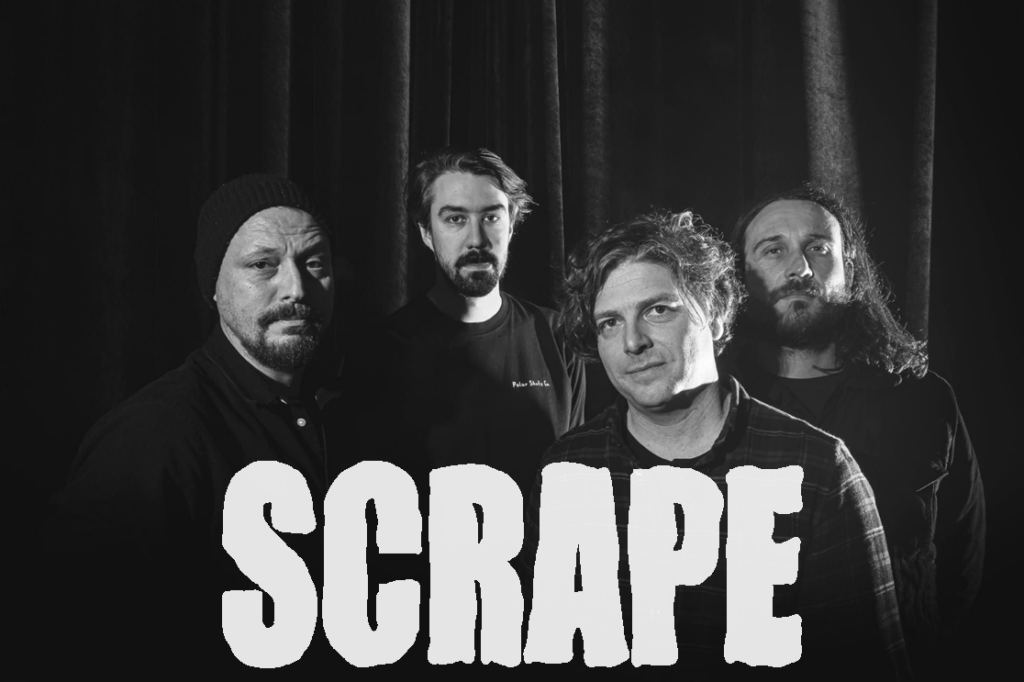 SCRAPE will surprise you with a juice drippin' blend of very solid "melody-driven-Postpunk-Noiserock"!
Scrape started in 2013 out as the Belgian band THE RG's. So the history of Scrape is indeed also the history of THE RG's!
Since its inception THE RG's are spreading their love & adoration for the mainly heavier songs throughout the musical universe. The band was able to play numerous shows in clubs, festivals and (music) bars in Belgium & the Netherlands. On stage you may expect a well-aimed blow to the jawbone making your eardrums tremble like never before …
During 2015 the band decided to release a first full self-titled record, which was recorded at the Barefootstudio (Pittem – BE).
In 2017 the band hit the studio again (this time at the Number Nine Studios Ghent – Be) to record their second album, called 'The Cricket Sound', which was produced by STAKE's frontman Brent Vanneste, followed by superbe reviews in Belgium, the Netherlands and even the UK.

After these releases many shows followed and the band was joining stages with Belgian finest such as STAKE, King Hiss, Raketkanon, MIAVA, Tangled Horns, The Sha-La-Lees, La Jungle, Wallace Vanborn and some international acts like Messer Chups (RU), Feeder (UK), The Virginmarys (UK), Iguano Death Cult (NL), Bird Of Joy (NL) & many others…
New record YOUR HEAD ON A STICK 2021!
During the pandemic-years, the band started writing on a brand new album, this in collaboration with Dominiek Hoet (King Hiss) as producer. 9 songs where recorded and mixed at Studio Scampi in Waardamme (BE) and mastered by Arjan Bogaert at Barefootstudio. The artwork was provided by the talented Planeet Janus (Kortrijk).
"Your Head On A Stick" was released by POLDERRECORDS digitally and on cd on December 17th, 2021. A vinyl release was planned on Sept. 24th 2022 at the venue De Verlichte Geest Roeselare.
SCRAPE: same band, different name!
At a certain point the band decided that its roots with THE RG's were no longer matchable with the present tense… In 10 years time the band started out as a 2-piece-garage-blues-rockband and in time the band grew to a 3-piece and eventually to a 4-piece band today. Musically, the band also evolved to a more profound Postpunk/Noiserockband. During 2022 THE RG's were able to support Black Mirrors (B), Rhea (B) and Mondo Generator (US) during their clubshows at the Botanique Brussels, Kunstencentrum VIERNULVIER – De Vooruit – Ghent and Music Club 4AD Diksmuide.
Looking for some new adventures… The band reboots as SCRAPE and they will release a brand new EP called SHAKE THE NATIONS during 2024!!
Their first single (also) called Shake The Nation has just been released through Polderrecords (June 16th, 2023)! Go check it out!